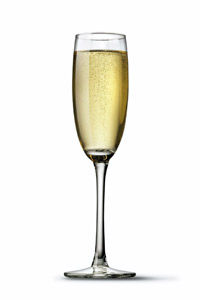 Champagne is a sparkling wine produced by inducing the in-bottle secondary fermentation of the wine to effect carbonation. It is produced exclusively within the Champagne region of France, from which it takes its name.
Methode Champenoise is the traditional method by which champagne is produced. After primary fermentation and bottling, a second alcoholic fermentation occurs in the bottle. This second fermentation is induced by adding several grams of yeast (usually Saccharomyces cerevisiae, although each brand has its own secret recipe) and several grams of rock sugar.
According to the Appellation d'Origine Controle a minimum of 1.5 years is required to completely develop all the flavour. For years where the harvest is exceptional, a millesim is declared. This means that the champagne will be very good and has to mature for at least 3 years. During this time the champagne bottle is sealed with a crown cap similar to that used on beer bottles. After aging, the bottle is manipulated, either manually or mechanically, in a process called remuage (riddling, in English), so that the lees settle in the neck of the bottle. After chilling the bottles, the neck is frozen, and the cap removed. The pressure in the bottle forces out the ice containing the lees, and the bottle is quickly corked to maintain the carbon dioxide in solution. Some syrup is added to maintain the level within the bottle.
As a general rule, grapes used must be the white Chardonnay, or the dark-skinned "red wine grapes" Pinot Noir or Pinot Meunier. Due to the gentle pressing of the grapes and absence of skin contact during fermentation, the dark-skinned varieties also yield a white wine.
Most Champagnes are made from a blend of Chardonnay and Pinot Noir, for example 60%/40%. Blanc de blanc ("white from white") Champagnes are made from 100% Chardonnay. Possibly the most exquisite, and definitely the most expensive of these is grown in a single Grand cru vineyard in Le Mesnil-Sur-Oger for Salon. Blanc de noir ("white from black") Champagne is pressed from Pinot Noir, Pinot Meunier or a mix of the two.