Merlot
---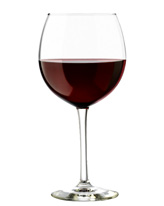 Another very popular red wine varietal and blending grape, Merlot is recognized for its dark blue color, often associated with blueberry. Unlike Cabernet Sauvignon, Merlot wines have softer tannins and full flavors even when young, making it one of the most approachable, drinkable and affordable of all the red wines.
Merlot can withstand intense heat and has wide window for ripening. Due to its resilience in the vineyard, Merlot is grown very successfully worldwide, especially in Bordeaux, Italy, and Northern California. Delicious on its own, Merlot is traditionally also blended with other wines, especially Cabernet Sauvignon, making it part of some of the greatest wines in the world.
On the palate, Merlot can be characterized as rounded, fleshy, deep, fruity (not sweet) and intense with a "velvet" mouthfeel. On the nose you'll find plum, berry, currant and sometimes vanilla.
Merlot is a medium-bodied wine, lighter and softer than Cabernet, yet still full-flavored. Merlot pairs easily with roasted prime rib, grilled steaks, filet mignon, cheese (especially full-flavored cheddar, blue, camembert, etc.), duck, lamb, pork, veal, turkey, sausage, pasta and tomato sauce dishes. Merlot is a very versatile and affordable red, easily paired with big flavors, and therefore, often a popular wine that most people will enjoy.