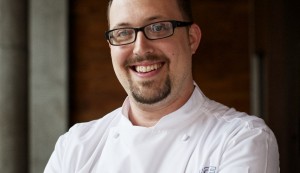 December 10th was a great night of learning at Central Market, (4001 N. Lamar Blvd.) Austin Texas.  Chef Lawrence Kocurek of the Hotel W's Trace restaurant dined, educated and exhibited enticing farm to table winter dishes for a select group of foodies.
Like so many other 40+ year olds, who dined on can soup, grey vegetables and cheese individually wrapped slices as a kid; Chef Kocurek found life back in the ever growing kitchen gardens of Texas. He has taken his French Culinary Institute of New York (now operating as International Culinary Center) education and beautifully married it with his Texan-Czech roots.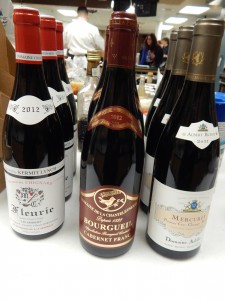 At heart he is a self-sustaining chef who has garden fresh vegetables, honey boxes on the W's roof top, raises snails and at one time pigs to prepare his signature Charcuterie pieces.  Seth Pollard, Central Market's Beer & Wine Manager selected earthy French reds to accompany Kocurek's French method of preparation and craftsmanship.
Our menu commenced with his Charcuterie plate that included Kocurek prepared Duck Bacon, Morteldela, Cotto Salami, Czech sausage, sliced petite gherkins and German mustard. The pieces were all very different and all had their own flavor profiles.  His love of the art of charcuterie was evident in this amazing first course.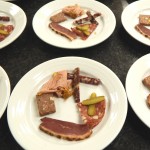 The plate was paired with Domaine Chignard Fleuire "Les Moriers", Grand Cru Beaujolais, a gamy vined light bodied red that was reared in the hills of Les Moriers, near Moulin-A-Vent. The Grand Cru Beaujolais stood on its own, however paired with the Charcuterie plate was very well received.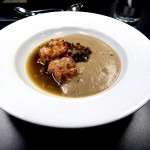 The second dish was composed of Quail, Wild Mushroom & Lentil Soup that was crafted with Texas in mind. Chef Kocurek's shared his family's passion for forging the hill country for mushrooms as he prepared the soup.  The quail was sautéed and finished with butter. The soup was partially foamed circling a bed of wild mushroom and lentils. It was served with a Bourgueil Cabernet Franc from the Loire Valley. The crispiness of the Cabernet Franc with a hint of acid worked very well with the tenderness of the quail and mushroom lentil hash.
See Quail Mushroom Soup Recipe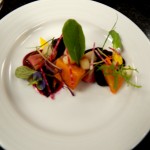 Chef Kocurek's third dish was a delightful trio of beets, baby vegetables, lettuces with a fresh goat cheese foam and garnished with eatable flowers.   The beet puree was sinfully delicious on its own and when accompanied with the roasted beets and goat cheese foam was too good to be true.  The dish was topped with a beet chip that brought a new texture to the dish.   Pollard selected Albert Bichot Mercury Premier Cru, Champs Martin, Domaine Adelie; a Pinot Noir from the Burgundy region.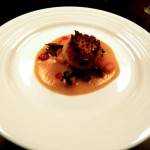 The finale was a seared scallop with chorizo, peppers, squash and potato sitting on top of a Saffron Bouillabaisse sauce made with shrimp and scallops.  The first note on this dish was the amazing color comprised of a deep golden bouillabaisse, red peppers, flat leafed parsley and cubed potato.  It was topped with a perfect seared scallop. Pollard brought a Spanish NaveranPerles Roses 2010 Cuvee Antonia, Cava to complete the dish.   It was outstanding with the lightness of the Cava with the heat of the chorizo and colorful bouillabaisse.   It was my favorite pairing of the evening.
See Saffron Bouillabaisse recipe.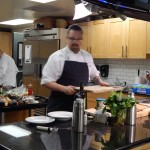 Kocurek showcased an evening of resurgence of familiar ingredients that have been prepared by a true craftsman.  The W Hotel's Trace, a restaurant that was founded on a trace-ability of where their ingredients come from for preparation has found the guy who practices the same principles and is able to bring an evening of simply elegance for fine dining.  Chef Kocurek is a star in the rising Austin gastronomic scene, and a chef to be followed.
Bravo.
by Deirdre Goggins