POPULAR SWEET WINES
Riesling
|
Moscato
|
Vouvray
|
Chenin Blanc
|
Sauternes
|
Icewine/Eiswein
|
Tokay/Tokaji
|
Port
|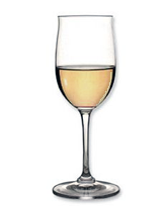 Riesling is grown in Germany, Austria, Alsace (France), New Zealand, South Africa and the United States. It can be either a dry white wine or a sweet dessert wine. For the purposes of a dessert wine, it is harvested very late with noble rot, icewine or chaptalized to add sweetness.
Higher in acid and lower in alcohol, sweet riesling pairs very well with fresh fruit, soft cheeses, or with foods containing a high salt content where the sweetness of the wine balances out the saltiness.
Sweeter styles of Riesling, especially late-harvest or Spätlese Rieslings from the Alsace region of France, pair beautifully with apple and fruit desserts, crème brûlée, Thai food and bread pudding. learn more
Muscato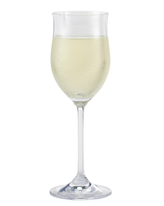 Also known as Moscato, Muscatel or Muscadel, Muscato is a fragrant dessert wine produced as both a sweet semi-sparkling wine (Moscato d'Asti) or a sweet still wine. Muscato wines are produced in many countries including Italy, Spain, Portugal, France, and smaller countries like Greece, Moldova, Lebanon and Slovenia to name a few. The Muscat grape itself can range in color from white to black and are high in sugars and flavonoids (antioxidants).
Muscat grapes are high in sugars, flavonoids (antioxidants) and are used in edible grapes, raisins and sweeter style wines including a slightly fizzy wine style called Moscato d'Asti. Muscato has growing in popularity in the U.S. in recent years, being an approachable sweet wine that pairs easily with a variety of foods.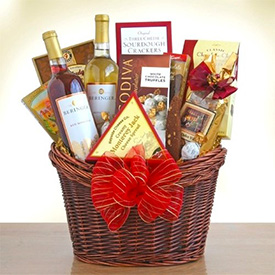 Sweet Moscato and Moscato d'Asti wines are very good served chilled on their own as a refreshing summertime wine. Also very good with lighter Thai dishes or other spicey dishes, as the sweetness offsets some of the spiciness. Moscato wines pair beautifully with light or mild fruit or creamy desserts, blue or cheddar cheese, biscotti, fois gras, nuts, pannetone, meringues, souffles, berries or even chocolate. Muscat can be a fortified dessert wine, as in de Beaumes de Venise (Rhône), a late-harvest dessert wine, or a liqueur.
In Spain and Portugal, Muscato is typically used for fortified wines and brandy. You will find a straw like or golden color to the wine with almonds, honeysuckle, peach, apples and pear on the nose. On the palate you will find a fruit forward profile that will dominate with apricot and peach.
Vouvray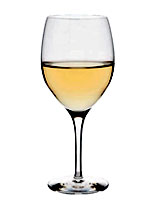 Vouvray wine is a very popular, cold climate wine, produced in France's Loire Valley (Appellation Vouvray Controlée). There is not only one Vouvray but several different Vouvrays. It can be sweet, flavored, or full-body and dry. The sweet wine has a golden color, is vigorous, fruity and fresh. Vouvray is made from Chenin Blanc grapes (Pineau blanc de la Loire).
Sweet vouvray wines include Demi-Sec (semi-dry), Moelleux (sweet, botrytized) and Doux (sweetest, botrytized and heavy or syrup like). They are higher in acidity than dry versions and often require 4-5 years of bottle aging. Almost never aged in oak, vouvray is produced in traditional steel tank and is popular as both a still wine and a sparkling wine.
You will find similar notes in vouvray as sauternes, including quince, honey, almond, Asian spice, gala apple and fig. On the nose you will notice a massive perfume that include white flowers and honeysuckle.
Vouvray pairs extremely well with rich foods, pastry, cakes, soft creamy cheeses like Camembert, and creamy veal or chicken dishes. It also is spendid with decadent reduction sauces, duck and grilled poultry.
Chenin Blanc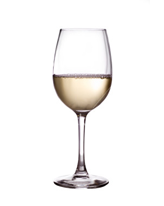 Cultivation of Chenin Blanc grapes from the Loire Valley has expanded to many other countries including Spain, South Africa, Australia and has spread out over 12-15 states across the U.S.
The Chenin Blanc varietal is typically high in acidity. For sweet wine, the grapes are harvested at an exact time, often late in the year, when the maximum amount of noble rot has infected the grape. "Noble rot" or botrytis is a natural mold, highly prized, that imparts high sugars and sweetness unmatched by any other natural process.
Typically, you will can expect to find notes of green apple and mineral or a chalkiness that opens up to flavors of honey, chocolate/almond or nuttiness, along with citrus and exotic fruits.
Chenin Blanc wine pairs exceptionally well with spicy Asian cuisine or Mexican foods, however its versatility expands it to other culinary avenues as well.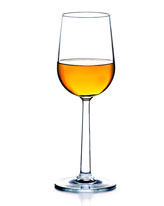 Sauternes is the King or Granddad of all sweet wines. Sauternes wines carry decades of history and prestige and are often expensive. Sauternes wines are produced in the Graves region within Bordeaux, made from Semillon, Sauvignon Blanc and Muscadelle grapes which have been affected by noble rot. As the cold climate and mild dampness affects the area with annual regularity, botrytis (aka noble rot) and the cold cause the grapes to raisin and embue the grapes with acidity and chalkiness as well as apricot and honeycomb flavors.
Sauternes wines darken with age, often starting out pale yellow to straw yellow and getting darker as years progress, sometimes progressing to a light brown. With ageing potential over 100 years, Sauternes are highly collectible wines. The most famous of Sauternes is the Chateau d'Yquem. They are beautiful served chilled with a rich dishes including fois gras, crème brulee, chocolate, and cakes or with soft or moldy cheeses.
Icewine/Eiswein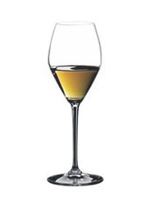 Intensely sweet and indulgent, icewine is a delightful dessert wine. Enjoy it on its own after a meal--like dessert in a glass. Or serve this rich, sweet wine with a dessert that is a little lighter and less sweet. Or serve it with something savory and full-flavoured for balance. Avoid serving icewine with overly rich or very sweet dessert that may compete with the wine. It's also excellent with a simple dessert of fresh fruit and cheese, or enjoyed as an aperitif. Red icewine pairs well with chocolate.
Ice wine is made from grapes that are only picked after they have frozen on the vine. Typically harvested in the most grueling conditions, in the dead of the night and in deep freeze conditions, grapes are picked, without botrytis (noble rot) affecting the grapes. Harvest must take place in just a few hours since a deep freeze affects the grape's cell walls and is destructive if the grapes thaw. As a result, farmers are on high alert and must have a labor pool ready to harvest the grapes on call.
Icewines are very concentrated and sweet with noticeable minerality. The range of flavor profiles shifts as Ice Wine can be made from many different varietals, from Riesling to Cabernet Franc, Merlot or Muscatine grapes. The authority on icewine is Canada; however, other cold climate regions like Germany and Oregon also produce icewines. Icewine is well suited for chocolate desserts and are accentuated with truffle, or caramel toppings, or fruit and fruit compotes.
Tokaj/Tokaji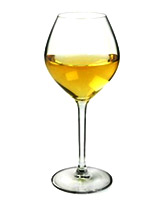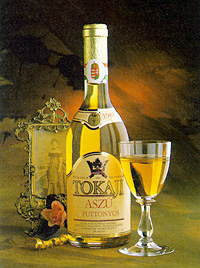 Originating as far back as the 1530's, Hungary and Slovakia are the only countries permitted by law to use the Tokaj or Tokaji name under the brand as it is a designated controlled appellation. Only six grape varietals are permitted under the Tokaj regulation to be used in the fermentation process that includes Furmint, Hárslevelı, Yellow Muscat, Zéta (Oremus), KövérszŒlŒ and Kabar.
The Tokaj process of making wine includes a harvest under conditions of noble rot (botrytis), which following a long summer preceded by a brutally cold winter, allows for a raising of the grapes resulting in a super sugar concentration.
Baskets of Aszu grapes are stomped into a paste like consistency called Aszu dough (puttonyos) that is then blended with wine must for up to 48 hours. Following the blending process, the wine is placed in wooded vats and racked. A slow fermentation process results which can take up to several years. A Tokaji is classified by the number of Puttonyos added to the casks and can range from 3 to 6 Puttonyos with six being the sweetest and most prestigious.
Tokaj has a sweet, honey, carmelized flavors that are excellent served with creamy cheeses, foie gras, fruit desserts or rich cakes.
Essencia, which is a nectar that bleeds off the racks from the Aszu can also be bottled. As it has such a high concentration and a much smaller fraction of production, it is often consumed in smaller glasses and is quite expensive (around $500 a bottle) due to its cellaring capacity to last over 200 years in bottle. Tokaji Essencia can be consumed with fruit, cheese, or decadent cake, however its scarcity and exclusivity really makes it a standalone wine.
Port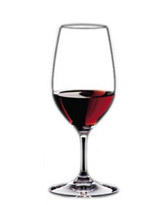 Produced in the Duoro Valley in Northern Portugal, port can be produced by over 100 different grape varietals, however it is typically produced using five different varietals, namely Tinta Barroca, Tinta Cão, Tempranillo, Touriga Francesa, and Touriga Nacional.
Port is classified into two groups: barrel aged and bottle aged port. The taste profile of ports includes nuttiness (hazel nuts), leather, jerky, bacon and currant. A good way to describe the power of ports is to describe it in terms of "grip" which describes its lasting power on the palate.
Barrel Aged Port
Barrel Aged Port is designed to be aged and consumed in the long term, and include:
Tawny Port – produced from red grapes and exposed to wooden casks that allow for partial oxygenation that produces a darker, richer color. Typically consumed as a dessert wine. Tawny ports are designated by year or by non-year. Designation such as 20 year Tawny indicates the blends are from wines that have been in barrel at least 20 years.
Colheita Port – A tawny port from a single vintage, which unlike vintage port must be in barrel at least 20+ years. White Colheita ports have been created, however red Colheitas are more traditional.
Garrafeira Port – A rare occurrence where a single vintage harvest is produced and barrel aged, upon which the port is transferred to a glass bottle for continued aging.
Bottle Aged Port
Bottle Aged Port is designed to be consumed in the short term and includes:
Ruby Port - the least expensive port, blended in large steel or concrete tanks to protect its rich color. Ruby ports are extensively used for cooking or immediate consumption and do not improve with age.
Reserve Port – a blend of various vintages of lesser desirable ports.
Rose Port – limited exposure to the grape skins and produced in a style similar to rose wines. Not widely popular and recently introduced into the marketplace with lukewarm demand at best.
White Port – produced from white grapes and usually fermented for longer periods of time, typically served chilled or blended with cocktails. With increased bottle aging it will acquire a darker color.
LBV or Late Bottle Vintage Port – a single vintage port that is typically the result from weak demand and over barrel ageing. Typically it is filtered (unlike vintage port) and meant for immediate consumption with out the requirement of extensive aging and decanting.
Crusted Port – a blend of several vintages of higher quality unfiltered ports. Requires the port to be bottle aged for at least three years before release.
Vintage Port – accounting for 2% of total production, vintage port is produced from a declared vintage, with a minimum of two and a half years in barrel before bottling with an additional 10-50 years in bottle before its ready to consume. As this is the most prestigious Port and smallest production, the decision to declare a vintage port is not taken lightly and it is not done every year in an effort to maintain the highest standard.