The Riesling Wine Grape
Riesling is one of the three most popular white wine varietals and often one of the best bargains on restaurant wine lists. Riesling is grown in wine regions everywhere but is dominant grape variety grown in Germany. German Rieslings are considered the best made, with Alsatian wines nearly on par. Riesling is also grown very successfully in such diverse climates as Austria, Australia, New Zealand, South Africa, Canada and many places in the U.S., especially the Fingerlake District of New York, Michigan, Washington, Idaho, Oregon and California.
Riesling is an aromatic grape variety with flowery, almost perfumed aromas and high acidity, making it one of the most versatile and food-friendly white wines available. It is also highly "terroir-expressive", meaning that the character of Riesling wines is clearly influenced by the wine's place of origin. Most Riesling, unlike Chardonnay, does not undergo malolactic fermentation. This helps preserve the tartness and acidic characteristic of the wine that gives Riesling its thirst-quenching quality.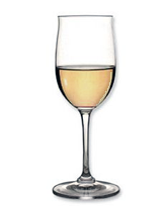 Tasting Riesling
Riesling is made in wide variety of styles, aromas, and flavor profiles. It can range from bone dry to seductively sweet in taste, with fragrances ranging from flowers, ripe peaches, tropical fruits, and mineral stone (such as slate or quartz) and, with time, the wine acquires a petrol or orange oil note that can be very pleasing.
Riesling's versatility makes it an easy-to-pair wine and a perennial favorite of Sommeliers. Riesling is a versatile wine for pairing with food, because of its balance of sugar and acidity. It can be paired with white fish or pork, and is one of the few wines that can stand up to the stronger flavours and spices of Thai and Chinese cuisine. Serve chilled.
Riesling Styles & Food Pairings
So how do you know what style of Riesling is in the bottle, especially if it is a German Riesling? These tips will help:
German Riesling Classifications

All German 'Quality Wine' (Qualitätswein) falls into one of two categories:




QbA— Qualitätswein bestimmter Anbaugebiete
Quality Wine from Designated Areas

QmP— Qualitätswein mit Prädikat
Quality Wine with Special Distinction

QbA

QbA (Qualitätswein bestimmter Anbaugebiete) wines come from 11 specified winegrowing regions.

All wines carrying this rating are produced from approved grape varieties and have levels of ripeness that allow the wines made from them to reach a certain traditional level of taste and style.

QbA wines tend to be light, fresh and fruity and are produced to be consumed while young.

QmP

The finest German Rieslings carry a designation of QmP (Qualitätswein mit Prädikat) on the label, meaning 'Quality wine with special distinction'. QmP wines are certified at every stage from the vineyard through bottling and must come from a single district (subregion).

QmP wines are the highest quality wine produced in Germany. Wines having this rating carry one of six special attributes (Prädikat) on its label: Kabinett, Spätlese, Auslese, Beerenauslese (BA), Eiswein, Trockenbeerenauslese (TBA). See below.
QmP Designations
QmP wines are classified into six designations, which are often considered levels of sweetness and quality. In fact, the classification is determined by how long the grapes are allowed to hang on the wine before harvesting, i.e. "hang time".
The six levels usually coincide closely with sweetness or sugar level (see Brix) simply because the longer grapes are allowed to ripen on the vine, the more sugar they develop. The German QmP classifications, therefore, range from dry (Kabinett) to very raisin-sweet (Trockenbeerenauslese).
Kabinett

The lightest and least sweet category of Germany's QmP (Prädikat) wine designations. Kabinett wines are known for their delicacy.

Pair Kabinett Rieslings with meat courses, cheese, charcuterie. "Trocken" on the label means "dry", "Halbtrocken" means "half-dry".

Spätlese

Spätlese —German for "late harvest".The grapes used to make spätlese wines are harvested no less than 7 days following the normal harvest. Generally sweeter than kabinett, Spätlese wines tend to be more concentrated and intense in flavor.

Pair with main courses. Spätlese's sugar content pairs very well with spicy food, especially Asian food, where the sweetness balances the heat of the spice.

Auslese

Auslese —German for "selected." Auslese designated wines come from selected very ripe grapes. They tend to include a small degree of botrytis-affected grapes (also see "noble rot"), so are often (but not always) naturally sweet with an intense bouquet and taste.

Usually paired with dessert items.

Beerenauslese

Beerenauslese —German for "selected grapes". The grapes have been individually selected and include only grapes which have been affected with botrytis, leading to a very sweet, rich dessert wine with aging potential.

Eiswein

Eiswein —"Ice Wine" is the 5th highest of the German QmP wines. Eisweins have the same intensity as Beerenauslese wines but are made only from grapes which were harvested and pressed while still frozen. Ice Wines are truly unique and are remarkable for their concentration of fruity acidity and sweetness.

Trockenbeerenauslese

Trockenbeerenauslese —German wines made from individually harvested grapes which have reached the highest stage of botrytis infection with many at the raisin (Trockenbeeren or "dry berries")stage. These wines are difficult to produce and rare.

They can take years of bottle aging to reach their full glory but will finally yield a rich, sweet, luscious, honey-like wine.

Note that the German "Trockenbeeren" means 'dry berries' aka raisins (very sweet), not to be confused with "trocken" by itself, which means "dry" (not sweet).
---
Video
In this short video Sommelier Scott Ota presents a comprehensive overview of Riesling and the various styles of Riesling.