---
Pinot Noir (Red Burgundy)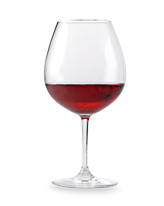 Derived from the French words "black" and "pine" which refers to the cluster of grapes, which in appearance resembles a black pine cone.
Pinot Noir is a thin skin grape that performs much better in cooler climates with plenty of sun exposure. It is often grown very successfully in Coastal areas such as Oregon, California, Burgundy (France), Germany and New Zealand. Burgundy produces some of the very best Pinot Noir on the planet.
There are two major styles of Pinot Noir, the first of which is cooler climate, volcanic soil Burgundian style, which exposes more terroir and earthiness on the palate and transforms into fruit towards the back of the palate. The latter is the popular fruit forward, much more rich California Pinot Noir which is exposed to extensive sunlight and a warmer climate. Both are full-bodied. Lighter-bodied Pinot Noir styles are usually less expensive and less amazing.
Pinot Noir is a food-friendly varietal that pairs well with many proteins— grilled or roasted lean beef, chicken, roast duck, lamb, pork loin, grilled or pan-roasted salmon, tuna, veal and smoked meats. Mushrooms and Goat Cheese both seem to have a special affinity for Pinot Noir, whether from Burgundy, Napa, Sonoma or Oregon.