The Chardonnay Wine Grape
Chardonnay is a green-skinned grape variety used to make white wine. It is believed to have originated in the Burgundy wine region of eastern France but is now grown wherever wine is produced. The Chardonnay grape itself is very neutral, with many of the flavors commonly associated with the grape being derived from such influences as terroir and oak. It is made into many different styles of wine, from the elegant, "flinty" wines of Chablis to rich, buttery Meursaults and New World wines with tropical fruit flavors. It is widely known for producing excellent full-bodied wines. The cooler zoned climate Chardonnay grapes produce an abundance of fruit flavors.
White Burgundy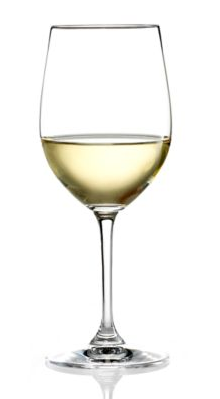 You won't find the word "Chardonnay" anywhere on the bottle but the world's best Chardonnay wines bear only the name of the place in Burgundy, France where they were made. These are known as "white Burgundy" wines, and are usually 100% Chardonnay. The three primary Chardonnay winegrowing regions within Burgundy are 1) Côte de Beaune, 2) Chablis and 3) Mâconnais.
The Côte de Beaune region is home to the greatest of all white Burgundy wines, made in villages of Meursault, Puligny-Montrachet, Chassagne-Montrachet and the Corton-Charlemagne vineyard. Unlike other white Burgundies, these wines are fermented and aged in oak barrels, emerging lucious and full-bodied.
Chablis chardonnays are characterised by tingly lemon, green apple, and mineral flavors that can seem sour at first but are excellent when paired with the right dish. There are three levels of quality (and price) from basic Chablis, to Chablis Premier Cru to Chablis Grand Cru.
The Mâconnais region is a source of "value" Chardonnays, including Pouilly-Fuissé and Mâcon-Villages, in comparison to other white Burgundy wines. Reliable producers include Louis Latour, Bouchard, Jadot and others.
Domestic and New World Chardonnay
California and other domestic Chardonnays are very different in style, usually richer and heavier than French Chardonnays, and are often oaked for a vanilla-bean or smoky bouquet. Oak also lends a golden color to the wine. Big buttery (see malolatic fermentation) or overoaked Chardonnays can overwhelm delicate dishes and sometimes are made to mask poor quality, flavorless grapes. The best examples of domestic Chardonnay are perfectly balanced with good acidity. Napa Valley Chateau Montelena produces an indisputably balanced Chardonnay, which won the attention of the world in the famous 1976 Paris Blind Wine Tasting that put California wine on the world map. (If you haven't seen it, check out the movie "Bottle Shock" and our short video about this historic event.)
Australia, New Zealand and Chile also produce good quality, inexpensive chardonnay with bright tropical fruits. Their style tends to resemble California Chardonnay.
Tasting Chardonnay
You can pick up apple, pineapple, or the hint of peach. The warmer climate Chardonnays may have less of the fruits but develop wonderful honey, vanilla, and roasted flavors that really fill the mouth. While many examples of Chardonnay can benefit from a few years of bottle aging, especially if they have high acidity, most Chardonnays are meant to be consumed in their youth. Notable exceptions to this are the most premium examples of Chablis and white Burgundies.
Food & Chardonnay Wine Pairings
Due to the wide range of styles, Chardonnay has the potential to be paired with a diverse spectrum of food types. It is most commonly paired with roast chicken and other white meats such as turkey. Heavily oak influenced Chardonnays do not pair well with more delicate fish and seafood dish. Instead, those wines tend to go better with smoked fish, spicy southeast Asian cuisine, garlic and guacamole dips.
Looking for an interesting alternative to Chardonnay? You might try a Viognier. It offers a full, rich body and intense aromas with high alcohol content. Viognier has tropical fruit and floral aromas instead of Chardonnay's vanilla and butter scents. It also is somwhat less food friendly in that Viognier's floral qualities can overwhelm light dishes. Try it with seafood bisque or crab cakes, pork or tropical moderately spiced foods like satays and coconut milk curries. (See our video on Viognier for a recap.)
Bon appetit!
Video
In this short video, Rob Moshein presents a brief but excellent overview of Chardonnay and the chief Chardonnay producing wine regions, including Burgundy, France.