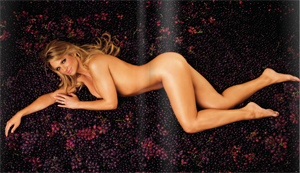 What could Thomas Jefferson, Antonio Banderas and Lillian Disney possibly have in common with Dan Ackroyd, Mario Andretti, Raymond Burr and Charlie Palmer?
If you haven't already peeked, you'll see all these famous names appearing together on the cover of a delightful new wine book by Nick Wise, Celebrity Vineyards: From Napa to Tuscany In Search of Great Wine.
Celebrity Vineyards is a charmer. It exudes personality from every page relating fascinating true stories of sixteen people who are established celebrities in their own fields—and share a common passion for wine and winemaking.
So many wine books fall into one of three categories: the beautiful-but-hefty tomes destined for wine lovers' coffee tables, collectors' volumes of serious wine reference, and the 'guide-to-anywhere' wine books that flood the popular market. Happily, Nick Wise's new Celebrity Vineyards is none of these. Here is a truly new and interesting wine book you will enjoy reading cover to cover.
I had an opportunity to meet the author, Nick Wise, who flew to California from his home in London this past week to launch his book at the CIA at Greystone. The book is the product of three years work—two years travelling and one year of planning. Wise explained his criterion for selecting the celebrities featured in this book this way:
"I chose people who were an element of the process of making the wine—not just slapping a label on the bottle. They each add a bit of their character to the wine. They are very much involved in what they're doing."
Celebrity Vineyards tells each celebrity's unique story from a perspective that is discerning yet appreciative, and often humorous. Wise approaches each celeb vineyard with curiosity and interest in the people behind it, not for profiteering or just to compile a book but, importantly, out of a real sense of admiration and honor for the craft of winemaking.
What motivates successful people like comedian Dan Ackroyd, race car driver Randy Lewis, chef Charlie Parker, NFL coach Dick Vermeil, Doobie Brothers' manager Bruce Cohn, or actor Antonio Banderas to become seriously involved in the risky business of grapegrowing and winemaking?
Each story's answer is unique and instructive. Wise focuses on the vineyards they have developed, the wines they produce and their involvement in the winemaking process itself.
In prose that glides as easily as a sip of good port, Wise relates the memories of actor Raymond Burr's (Perry Mason & Ironsides) partner of thirty years, Robert Benevides, as he tells how they came to plant the first grapes on their Sonoma Dry Creek estate near Healdsburg in 1986, and bottled the first wine in 1992. All this was back in the day when any hint of being gay could ruin a career. We're told that Burr never wanted his name on the label, but Benevides today produces and labels their wine "Raymond Burr" to honor his friend who passed away September 12, 1993, before the first wine was released in 1995. The highlight of the winery's portfolio is the Raymond Burr Estate Port, fortified with cognac, which Wise calls "a meditative wine [...] quite untraditional but unique and very tasty."
He tells the story of actor Fess Parker (whom Baby Boomers will remember as both Davey Crocket and Daniel Boone) and his early faith in the now famous Santa Ynez Valley appellation near Santa Barbara. He asks what brought director Frances Ford Coppola (The Godfather, Apocalypse Now and so much more), handsome Italian race car driver Jarno Trulli, noted screenwriter Robert Kamen (The Karate Kid and Taken), Italian-born American Forumla One racing champion Mario Andretti, and esteemed Italian composer Ludovico Einaudi, to enter the capricious world of winemaking.
All 16 stories are fetching. Surely, part of the interest stems from the feeling of familiarity we have with these people who, as celebrities, have been part of many of our lives. Their stories intrigue us because each one exposes the passion and energy that leads a person to step beyond a successful career in film, or music or racing to seek new challenges in the elemental tasks of winegrowing and winemaking.
One such amazing story that I was surprised to find in Celebrity Vineyards is the chapter on Natalie Oiveros, a beautiful Italian adult film actress and star of no less than 90 sexually explicit films, who left the porn industry and followed her lifelong dream of becoming a winemaker. She is quoted as saying, "[...] that's why I really wanted to make a wine—to bring some life, sensuality, and excitement to a world that can be so stuffy." Celebrity Vineyards' author, Nick Wise, openly admires and praises her cuvées. We can see why, indeed, in a tastefully provocative two-page spread photo of Natalie reclining in the nude on a huge bed of luscious dark purple grapes. (How in the world did she manage this without stains?)
Another surprise is a remarkably well-written tribute to Thomas Jefferson, America's first celebrity winemaker, recounting Jefferson's passion for wine and his frustrating attempts to grow winegrapes on his estate at Monticello. In fact, Monticello produces wine in his honor today far more successfully than Jefferson managed in his lifetime. Still, it's a revealing portrait of America's first celeb vinophile.
Celebrity Vineyards is published by Omnibus Press in London in association with Welcome Books in New York. The book itself is beautifully produced with an artistic contemporary softcover and wonderful photographs. It is a lovely collector's book, a fun and fascinating read, and an education for the palate. It would make a perfect gift for any wine lover, preferably with a bottle of wine from one of the vineyards profiled in the book.
For each of the sixteen celebrity stories, Nick Wise and Linda Sunshine (editor, writer and travel sidekick) present two or three of the best wines from each vintner's portfolio. Wise writes, "[...] it was incredible how many of these celebrities made absolutely beautiful wines. Some of them were complex, well-made wines that could compete with the best in the world."
I had the honor of tasting wines from six of the featured celeb vineyards in the book and they were all, in a word, stars.
I am already looking forward to volumes two and three, which are planned and promise to be equally fun and interesting. You'll have to buy the book though to see who will be included… because shhh… we're not giving it away.
---

by Jacklyn Wilferd
Founder & President
Wines.com