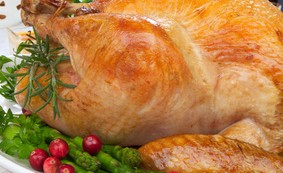 Thanksgiving! It's the one day of the year when wine is most likely to appear on American dinner tables. Selecting which wines will best complement your menu and appeal to your guests with individual taste preferences is always a bit challenging.
Paradoxically, there is no meal you'll serve all year where it's more difficult to pick a wine that won't work. And no meal that is more difficult to match with a "perfect" wine.
Turkey is one of the most versatile of meats when it comes to wine. The white meat is light enough to handle white wines, yet flavorful enough to handle lighter more delicate reds. The dark meat can stand up to bold reds. The devil, as they say, is in the details. In this case, it's the side dishes, the stuffing, the gravy and all the trimmings that make Thanksgiving family traditions unique and complicate wine pairings.
So rather than just recommend a few specific wines, we've compiled several strategies to follow in planning your holiday wine pairings. Check out the T-U-R-K-E-Y strategies below. One or the other may fit your situation, budget and guests' taste preferences. As always, you'll know if it's a successful pairing when the wine makes the food taste better and the food makes the wine taste better.
Six T-U-R-K-E-Y Wine Pairing Strategies
T

Toast with Bubbles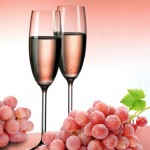 Champagne or sparkling wine pairs remarkably well with Thanksgiving dishes from turkey to cranberry sauce to stuffing, so they can be enjoyed throughout the meal. Brut is the driest of sparkling wine classifications with no perceptible sweetness. Rosé-style sparkling wines are slightly sweeter and also good choices. Our top sparkling wine pick for Thanksgiving would be a dry sparkling Shiraz, an enticing chameleon wine that will morph with your menu to produce a spectacular pairing.
U

Unique Wine with Each Course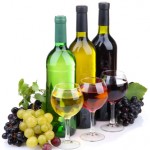 If you're planning for a party of six to eight guests, you can open a different bottle of wine for each course. You can choose special bottles that are unique. It's customary to begin with an aperatif or a celebratory glass of sparkling wine. Prosecco is a good budget choice as is White Port. Generally speaking, the progression of wines throughout the meal will be from white to red, from lighter-bodied to full-bodied, from dry to sweet (i.e. dessert wines).
Think about balancing the flavors in each course with the flavors in the wine. There are no real rules but you want to be sure the wine and the dish don't fight each other with one overpowering the other. And, of course, you'll want to consider your guests' palettes. Here are a few basic pairing ideas:
Wine Pairings with Turkey and Dressing: Cabernet Franc, White Burgundy/Bordeaux Blanc/Pouilly Fuisse, Chardonnay with low or no oak,a dry Riesling, Gewürztraminer, Beaujolais Grand Cru, Beaujolais Nouveau, Merlot, Pinot Noir or a fruity Zinfandel.
Wine Pairings with Light Side Dishes (like green beans): For something different and delicious, try Albariño or Grüner Veltliner.
Wine Pairings with Cranberry Sauce:  Prosecco or a fresh-tasting Dry Rosé, both of which pair with the tart and tangy cranberry sauce.
R

Red & White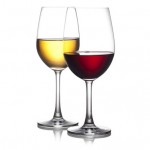 A simpler strategy for Thanksgiving wine is to select a good white and a good red, offering your guests their choice. For reds, look for soft tannins that will yield to and blend with your dishes, like Pinot Noir, Syrah, a fruity Zinfandel, Merlot, Beaujolais Nouveaux or a Beaujolais Grand Cru (made from the Gamay grape) will work well for most red wine lovers without overpowering lighter turkey flavors. For whites, you want to find a wine with well-balanced acidity. Sauvignon Blanc, Riesling, Gewürztraminer, an unoaked or low-oak Chardonnay, or Viognier are all good choices for those who prefer traditional white wines. Or consider a non-traditional white like Albariño or Grüner Veltliner.
K

Know Your Guests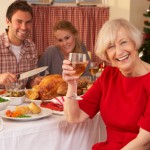 There's nothing wrong with serving a wine just because you know your guests will love it. It's true that newcomers to wine and those with sensitive palates will often prefer "sweeter" wines. It's always okay to simply consider what your guests would most enjoy and stick with that, unless it really clashes with your meal.  If you know your guests preferences, then select wines that run in the same style but work with your menu.  It's a good opportunity to introduce your guests to something new but similar to what they've always enjoyed.
E

End on a Sweet Note
What pairs with traditional desserts like Pumpkin or Pecan Pie?   Make your dessert special with a accompanying glass of sweet Moscato, Port or Sherry (fortified wines like Pedro Ximénez or a Cream Sherry), or a late harvest Riesling. More expensive choices include Sauternes or Hungarian Tokai wines. The essential criterion here is to choose a wine that is as sweet or sweeter than the dessert itself. Otherwise, even a very good wine will come off as bitter or 'sour' by comparison.
Y

Your Guests Choose the Wine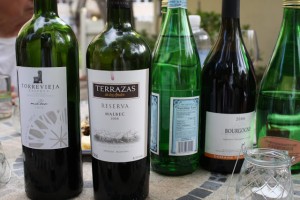 An old friend and syndicated wine writer, Jerry Mead, wrote a Thanksgiving wine column years back where he described his favorite Thanksgiving wine strategy:
" There was a time when I too (it was a very long time ago) tried to select a wine each year that I thought most likely to work well for everyone, with everything on the table, at a traditional turkey dinner.

Then I got smart. For at least the past 25 years I have been the hero of every family holiday dinner. You too can be a hero if you follow this sage (no play on words intended) advice.

Give every guest at least two wine glasses (even if you have to buy a little additional stemware). Then place on the table at least three different wines, all different in style and color, and let your guests try the different wines with different foods and flavors. Be prepared to declare the first bottle emptied to be the best wine."
If you're serving only three wines, we suggest:
A Dry White: This could be a Chardonnay, Sauvignon Blanc (Fume Blanc), Pinot Blanc, Pinot Gris, or even a dry Chenin Blanc. If you live in the Midwest or East, Seyval Blanc or Vignoles are more likely to be available.
A Semi-Sweet Wine: Think Riesling, Gewürztraminer, some Rosés and White Zinfandel. These will please beginning wine drinkers who tend to prefer very fruity and slightly sweet flavors, and may actually work best with some of the sweet flavored foods.
A Friendly Red: First choice is probably Pinot Noir, but also Gamay, many Merlots and the Beaujolais Nouveaux which are released in mid-November each year.
For a fourth wine, you might add a full-bodied red Syrah, Zinfandel or Cabernet Sauvignon