Wine Tributaries
by Tim Hayes & John Koetzner
Bonny Doon Breaks Out
Imagine being near Soledad Prison when the searchlights start scanning the walls, sirens are going off, and some sheets are hanging from a window. Of course, it sounds like a typical jail break, but what it really is, is a winery breaking the mold of romance and tradition. In this case, one can imagine Randall Grahm singing "Tradition" and his voice booming over the local enophiles who tout their aging collections. Or rather, one can imagine him singing parodies of rock classics as he moves Bonny Doon deeper into uncharted territory with consumers.
We might step back to August 2002 and mention that we received a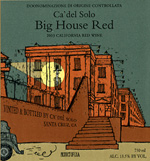 package with two bottles of wine that stunned many wine aficionados. It was the release of the Ca' del Solo wines that bore the names Big House Red and Big House White. The front label depicted a prison with a searchlight. Sheets were knotted together and were hanging from a window where the searchlight had stopped on the building. Obviously, this wine was an escape from the boring traditions that we had often encountered when looking at wines for everyday consumption. To our relief and amusement, both wines were quite sound, and in fact, the Big House Red was mighty tasty. At a $10.00 suggested retail price, it even put it in the realm of ordinary consumption on a daily basis. Egads, a wine that was cheap, sound, complex and provided levity? It was a winner.

Randall Grahm with Corkman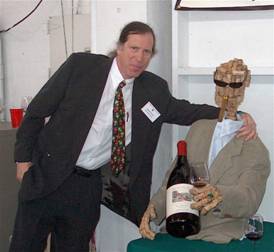 Now, jump ahead to spring 2003 at the Rhone Rangers tasting where a cork effigy sat on a chair, announcing the death of cork. Of course this was accompanied by a celebration for the new closure that Bonny Doon had embraced with this new line of wines, the Stelvin™ closure, or what we commonly refer to as a screwcap. With this new commitment to the Stelvin™ closure, Bonny Doon was again making an outrageous statemennt about the integrity of winemaking versus the romance of winemaking. After all, a corked wine is not romantic, no matter how you try to swallow it.
As a result, we are not only amused by Bonny Doon, but impressed by its whimsical inspiration. Why continue on the road most taken? Why not give into that rebellious spirit and even challenge the status quo? Its latest foray into whimsy arrived in the mail recently. It's the mock album lyrics for Ch. Neuf Du Papers Rhonely Hearts Club Band. Not only does it play with the music of a couple generations, but it laughs at how we give so much credibility to everything in popular culture (including wine critics), and how we might be a little bit better off if we could just laugh at it all.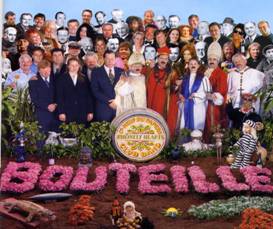 Cover of the Rhonely Hearts Club Band

A telling sign of how honest Bonny Doon is in breaking out, it even labels the wine reviews in its literature as "propaganda." Now that it's a winery that is "Born to Rhone" as the lyric folder says, it's time to check out their wines even further.
***
For further information, visit them or see their web site at: www.bonnydoonvineyard.com.