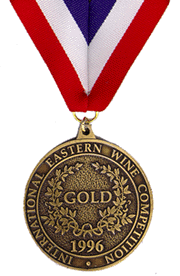 1996 International Eastern Wine Competition
1996 IEWC Judges Set Record for Awards
58% of Entries Received Gold, Silver or Bronze!
Judges of the 1996 International Eastern Wine Competition found it hard to be hard. Of 1,394 wines entered, judges gave 69 golds, 267 silvers, and 482 bronze medals. Throughout the three days of judging, state champions were being decided on the basis of being top point gold medals for red, white, sparking and dessert from each state or province represented. (Four state champions are theoretically possible from each state, but no state had a gold in all four categories.)
Sweepstakes winners were Missouri's St. James Winery, capturing the Best Red with its Norton, and Best White went to New York's Vinifera Wine Cellar's Dr. Konstantin Frank Semi-Dry Johannisberg Riesling. Contestants for the sweepstakes were all state champions - a total of 29, voted for preference by 20 finalist judges.
Three wineries were double winners in the Best of State or Province races. Magnotta Winery Estates Ltd. won best golds for its 1992 Cabernet Sauvignon and Pale Sherry. Nissley Vineyards of Pennsylvania won twice with a 1995 Montmorency Cherry and 1995 Dry Vidal Blanc. Ditto Washington Hills Cellars of Washington with its 1993 Cabernet Sauvignon and 1995 Semillon- Sauvignon Blanc.
Wines were entered from 29 states, four provinces of Canada and five other countries - Italy, Chile, Australia, New Zealand, and France.
Among the other standouts were Kendall-Jackson (CA), which captured three gold medals, as did Washington Hills Cellars (WA). Wineries that captured two golds included Buena Vista Winery (CA), Magnotta Winery Estates Ltd. (ONT), Nissley Vineyards (PA), Palmer Vineyards (NY), Sattui Winery (CA), Stone Hill Winery #1 (MO), Stoney Ridge Cellars (ONT), Vinifera Wine Cellars (NY), Wild Horse Winery & Vineyards (CA), and Windsor Vineyards (CA).
It is always heartening to see wines judged superior in various competitions because it is a testament to the professionalism of the judges. This year the Sweepstakes White, Vinifera Wine Cellars Johannisberg Riesling recently scored a double gold in the Taster's Guild Judging in MI, and was the highest scoring white in the Riverside, CA, judging, receiving the Sweepstakes Award in that judging, as well. The Sweepstakes Red, St. James Norton, has also received golds at the Taster's Guild Judging, the New World Wine Competition, National Orange Show/ Pacific Rim International Competition, and the San Diego National Wine Competition.

Wines were entered from 29 states, four provinces of Canada and five other countries - Italy, Chile, Australia, New Zealand, and France.

A change to this year's IEWC classification system was to divide Cabernet Sauvignon and Chardonnay into two classes, over and under $15. Judges, however, were not informed of which class they were receiving.

Quality of wines entered this year appeared to be very high across the board, based on the unprecedented number of medals awarded. Top award winner was Windsor Vineyard, CA, who earned 18 medals, closely matched by Guenoc, CA, with 17, Geyser Peak, CA, and Magnotta, ONT, with 15 each and Kendall-Jackson 14. Stone Hill, MO, and Sattui Winery, CA, each took 13 medals. Congratulations to all!

This year's International Eastern Wine Competition (IEWC) was the 20th anniversary year. The event was held June 9 - 12 in Watkins Glen, NY bringing together 34 judges from ten states. Panels were composed of wine educators, researchers, restaurateurs, wine writers, retailers and wholesalers, and winemakers.
---
IEWC Judge List Roster for 1996
Chairman and Chief Judge: Dr. Richard P. Vine, Food Science, Purdue University
Competition Manager: Hope Merletti, Vineyard & Winery Management
Peter Bell, Fox Run Vineyards, NY
David Birnbaum, Wine Consultant, NY
Gerald Boyd, Wine Writer, CA
Don Breed, Columnist, Providence Journal RI
Russ Bridenbaugh, Indianapolis News, IN
Dan Carroll, Dept. Food Science, North Carolina State Univ. NC
John Chambers, Winebow, Inc., NY
Bob Cimmons, Wine People Inc, NJ
Tom Cottrell, Winemaking Consultant, NY
Jack Czarnecki, Joe's Restaurant, PA
John R.Damian, Jr., Pierce's 1894 Restaurant, NY
Bruce Galphin, Atlanta Wine Summit, GA
Ben Gavitt, Cornell Dept. of Food Science & Technology, NY
Karyl Hammond, NY Wine & Grape Foundation, NY
Mort Hochstein, Wine Writer, NJ
Art Hunt, Hunt Country Vineyards, NY
Joyce Hunt, Hunt Country Vineyards, NY
Dan Kleck, Winemaker, Palmer Vineyards, NY
Toby Lagonegro, Elmira Distributing, NY
Alan LeBlanc-Kinne, LeBlanc-Kinne Winery Consulting, VA
Thomas Malina, Castel Grisch Manor, NY
Bill Moffett, Vineyard & Winery Management, NY
Scott Osborn, Fox Run Vineyards, NY
David Peterson, Finger Lakes Grape Extension Specialist, NY
Joe Pierce Jr., Pierce's 1894 Restaurant, NY
Ray Pompilio, Wine Appreciation Guild, CA
Bob Pool, Cornell Dept. of Pomology, NY
Carl Shively, Alfred University, NY
Debbie Slutsky, TheWine Warehouse, CA
Chris Stamp, Lakewood Vineyards, NY
Pamela Stansbury,Cornell University, NY
Marguerite Thomas, The Wine News, FL
Jim Trezise, NYS Wine & Grape Foundation, NY
Michael Turback, Turback's Restaurant, NY
Philip Ward, Lauber Imports, NJ
David Whiting, Standing Stone Vineyards, NY

Top of Page