Home

Feature Articles
Palmer Vineyards:

A Star on Long Island

Winemaking & Viticulture

Taste the Wines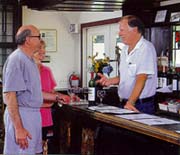 A super salesman, Bob Palmer likes to work the bar.
Photo by Conde

Palmer Vineyards: A Star on Long Island
by Contributing Feature Editor Gerald D. Boyd
Bob Palmer exhibits all of the positive mannerisms of a super salesman, be it in his media buying business or wine. Tall, gregarious with a winning smile and an easy going approach, Palmer's attention is increasingly focused on his winery, Palmer Vineyards, a 20,000 case winery located at the entrance to the North Fork wine region of Long Island.
Palmer Vineyards, in Aquebogue, is a popular destination for tourists and the thousands of New Yorkers who escape to Long Island for a quiet slower paced weekend. The Long Island wine community is divided into the North Fork and South Fork, separated by Peconic Bay. Together, the two regions have 17 wineries, with most in the North Fork, between Aquebogue and Southold.
Light years away, amidst the high energy business of Manhattan, is where you find what you might call Palmer's day job, R. J. Palmer, Inc., a national media buying service, that has become the impetus behind Palmer Vineyards.
The leap from media buyer to vintner may seem like a stretch, but for Bob Palmer the transition was a natural one in his business career. Today, he spends about 25 percent of a seven-day week doing winery business, but even while at his Manhattan office, Bob Palmer's time is often devoted to Palmer Vineyards.
Sales and Marketing
"What I bring to the party is marketing," Palmer says with easy assurance. Early on Palmer reckoned that the local market was limited, so he planned to sell his wine around the country. "We've saturated our local market. By necessity we needed broad distribution." Palmer Vineyards' current annual production is approximately 20,000 cases. Palmer expects that it will climb to 25,000 in the next year or so.

On-premise sales is a major focus for Palmer. "When I make a restaurant sales call, I always talk to the chef, because many of the chefs prefer our wines because they are lighter, lower in alcohol and more food friendly. And I try to persuade the distributor to position our wines at hot up-coming restaurants that are looking for new and different wines. We also try to get our wines on the wine-by-the-glass program, believing that people are more likely to spend $5 for a glass of something new than $25 for a bottle of something they're familiar with."

Palmer is on the road frequently, sharing the sales and marketing responsibilities with three other salesmen. He concentrates 95 percent of promotion and sales on U.S. while winemaker, Dan Kleck handles most of the international business. "My favorite market is Florida," claims Palmer. "A lot of the people I meet there are from New York state,. It makes Florida our largest market outside of New York." Palmer Vineyards is the only Long Island wine at restaurants in the Disneyworld complex.

Palmer Vineyards wines are sold throught the United Kingdom and are also avilable in Switzerland, Holland and Sweden. Recently, Bob Palmer introduced his wines into four provinces of Canada.


Nationally, Palmer wines are marketed in 22 states, with distribution throughout New York state as well as being on the wine lists of 22 Manhattan restaurants. Recently Bob Palmer made a few adjustments to the national distribution. "We dropped New Orleans, Washington, DC, Baltimore and Raleigh-Durham, although we may go back into Washington." Later this year, Palmer wines will be in six restaurants in Las Vegas.

"Bob Palmer does a good job and his wines are marketed aggressively," says Jim Trezise, president of the New York Wine & Grape Foundation. "Palmer Vineyards presence is strong outside New York and Bob Palmer does look beyond Palmer and promotes Long Island and when appropriate, he looks to New York as well. I give him a lot of credit for that."

Palmer Vineyards are sold throughout the United Kingdom and are also available in Switzerland, Holland and Sweden. Recently, Bob Palmer introduced his wines into four provinces of Canada .
Bob Palmer Gets Involved
Palmer wants to know and understand his customers and he gets personally involved. He often spends weekends pouring wine at the tasting room on Long Island. "I want to talk to the customers," he says. But despite his involvement in the local market, Palmer maintains that out of state sales are easier than local sales. "The profit is almost the same, because distributors pay us the same price for our wines if they're located in Louisiana, Florida or New York. Of course there is the additional costs of travel, promotion and the important time factor especially if you run another business."

As a way of getting distributors involved and interested in the success of the winery and vineyards, Palmer invites them to help his staff plant new vines in Palmer's expanding vineyard holdings. He follows up with status reports on the growth and production of the vines.

For six consecutive years, Palmer wines have been served on American Airlines' transcontinental first class service. American's wine buyer, Richard Vine says he has followed the progress of merlot from Long Island since the early days from several barrel tastings. "We found they compared very well with the better West Coast merlots. And our judgement about Palmer wines, particularly the merlot, was confirmed with medals won in other competitions."
The Winery Says 'Long Island'
Palmer winery is a collection of wood frame buildings, one dating from Colonial times, trimmed in grey and burgundy. The architectural style resembles the once commonly seen Long Island potato barn, complete with a facade of faux barnwood. At the foyer entrance to the winery, where visitors begin self-guided tours, is a community bulletin board, a subtle but highly visible example of the friendly sense of community along the North Fork, known locally as the East End.


The winery is typical of Long Island architecture
Photo by Jeff Heatley

Behind the winery is the Tasting House, a free-standing facility with the interior design of an Old English pub from London's Hotel Majestic, complete with a massive wood bar and booth seating that Palmer purchased at auction in Los Angeles. Visitors can sample Palmer wines while studying the tote board behind the bar that lists the Palmer medal count since 1986. As of early June, Palmer wines had racked up four Double Gold, 42 Gold, 121 Silver and 147 Bronze medals in state and national wine competitions. An extended deck with ample seating looks out over the vineyards and will eventually be extended to include an outdoor service bar.

...wine-flavored vinegars, BBQ sauce, pasta sauce, salad dressings, mustards, as well as wine grape jellies, hot fudge and grape seed oils.


Retailing at Palmer
Also for sale in the tasting house are Glenora wines from the Finger Lakes, the result of a cross-marketing venture beteen the two wineries begun several yeras ago. Another draw is a strawberry wine made by a mid-Hudson region winery from local berries. And there's a wide variety of gourmet food items, packaged for Palmer Vineyards in California, that includes wine-flavored vinegars, BBQ sauce, pasta sauce, salad dressings, mustards, as well as wine grape jellies, hot fudge and grape seed oils.

Marketing Palmer wines extends to an outside business called Grape Vines n' Baskets, a joint venture operated by Palmer's wife, Lorraine and daughter, Lori, located in Huntington, between New York City and the winery. Described by Palmer as a "gift destination," the store offers food and wine baskets. Under New York law, Palmer is allowed to own five remote sales outlets and he is considering adding a second outlet in a shopping mall.

Palmer builds rapport with his customers with a newsletter called "Palmer Pressings" a creation of public relations consultant, Robert Schoolsky. Reaching 2,600 Palmer wine fans, it is chatty and includes news about new releases and recipes for foods that pair well with Palmer wines, as well as updates on Palmer's expanding vineyards.

Continue to Part II: Winemaking and Viticulture at Palmer


Top of Page