Just to get things started, I'll make an announcement, a couple of predictions and then tell a story or two.
The announcement is that about three weeks ago I began my 30th year of writing this column, which is longer than most of the wines I've reviewed have survived.
As to predictions, just as I warned you that prices were going to go nowhere but up, based on high demand, a California grape shortage and the vineyard devastation caused by that rotten little root louse Phylloxera, I will now give you a yellow light, if not a green.
I predict that 1998 will be a year of leveling off, for the most part, with some actual decreases in some of the more popular price categories. The super-premium collectable wines will probably maintain high prices for another year or maybe two.
The early part of the 21st century should be very good for consumers. By the year 2000 the results of overplanting (which always follows a boom, in cycles as predictable as the tides) will be in full force. Merlot, which is in such short supply these days, will be available 18-liter bag-in-box for bulk restaurant sales and they'll be making pink wine out of it. Chardonnay will become even more of a commodity than it already is.
California will probably ban the drinking of wine, beer and spirits in bars, just as they recently banned smoking, and then no one will have any reason at all to go to a pub. At restaurants, you'll have to order two meals for each bottle of wine ordered. A dose of cough syrup will provide sufficient alcohol to get you arrested for drunk driving.
The good news is that my economic forecasting is much more accurate than my social prognosticating.
REMINISCING
Forgive me a moment or two of nostalgia and story telling. Over the past three decades I've contributed a thing or two to wine besides reviews.
Hey! I'm the guy who coined the term "blush" to describe naturally pink wine made in a white wine style from red grapes (almost all grapes have white juice, no matter the color of the skins).
"Blush" earned me exactly one line in Leon Adam's great history of wine, "The Wines of America."
I'm also the guy who suggested the name for that excellent Meritage-style wine known as "Cain Five," from Cain Cellars in Napa Valley, though it wasn't my first choice.
While tasting with Joyce & Jerry Cain, back when they were running the place, they mentioned that they had planted Merlot and Cabernet Franc in their Spring Mountain vineyard to use for blending to their Cabernet Sauvignon.
I said, "If you would also plant a few rows of Malbec and Petit Verdot you could be the first Napa Valley winery to produce a wine featuring all five of the primary Bordeaux varieties."
Remember, this was many years ago and before the "Meritage" name (which indicates an American style Bordeaux blend) had been created, so the Cains replied, "But what would we call such a wine."
My answer was that it would have to be something proprietary, and suggested "Cinq," French for five. The Cains didn't like it, and said they didn't want to use a French name on an American wine.
I said, "You could always call it "Five," and that's just what they did a few years later, after planting the additional grapes and getting a first crop. They were the first to make a Napa wine featuring all five varieties.
TELLING YOUR FORTUNE
My latest naming involves a new wine being produced by Weibel Vineyards, though their name does not appear on the label. It's a concept wine and only the brand name appears on the label.
Fred Weibel recently inherited the old family winery, though estate taxes nearly wiped him out. They cost the family owned enterprise most of its real estate and facilities. After considerable downsizing, it's a new and lean machine looking for new things to do.
When Weibel mentioned that he was looking for new projects, I suggested one I had dreamed up a dozen years before, had mentioned to several people, but that had never been done.
The idea was to create a wine that would work especially well with Asian and other spicy cuisines (this has been done before), but with a packaging gimmick that would be fun and make people want to try it (not done).
Weibel liked the idea and a few months later had the wine ready for introduction. The question now is has Mead come up with another "Blush" or "Five," or a bomb?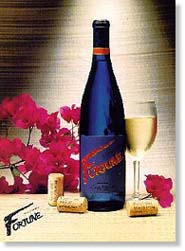 The wine is called "Fortune," it comes in a really pretty cobalt blue bottle with an almost iridescent blue contrasting label with true red lettering. The wine inside is white and semi-sweet (to handle that Szechuan tang, that Thai pepper, that Japanese wasabi, or Cajun cayenne) and is slightly spritzy (light carbonation) for fun. It is highly fruited, being a blend of Colombard and an aromatic grape variety called Symphony.
But the real gimmick? Your "Fortune" is branded on every cork! That's way better than a fortune cookie.
Because "Fortune" is my brainchild, I won't review it for fear someone would accuse me of showing favoritism, but if you like White Zinfandel most California Rieslings or Gewurztraminers, you'll probably like Fortune. You can contact Weibel/Fortune at (800) 932-9463.
BEST BUY WINE OF THE WEEK
Santa Carolina 1995 "Reserva" Merlot ($8.59) This Chilean red wine is a steal. Case purchases are strongly advised...it may not be there when you go back for more. Great from smell through aftertaste. Very forward cherry fruit in the flavor with pleasant cherry-stone tartness in the background. Gobs of fruit and extraction. Some smoky barrel-char flavor and after-flavor. Rating: 90/97
Wines are scored using a unique 100 point system. First number rates quality; second number rates value. Feel free to call Mead's office at (800) 845-9463 for help in tracking down wines or products reviewed in any column.