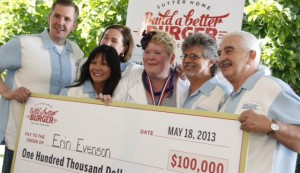 7 Train Caramelized Green Curry Burger became the latest $100,000 winner of Sutter Home BUILD A BETTER BURGER® recipe contest.The winners were selected in a cook-off in St. Helena, Calif on May 20th, a week before Memorial Day and the official start of the grilling season.
Erin Evenson of Brooklyn, N.Y. won the $100,000 grand prize with her creative burger featuring a sweet and spicy green-curry glaze, a little nugget of salty pancetta, creamy minted basil aioli, the crunch of roasted cashews, and a tangle of watercress salad. Sutter Home recommends its Gewürztraminer (literally "spice grapes" in German) with this spicy culinary creation.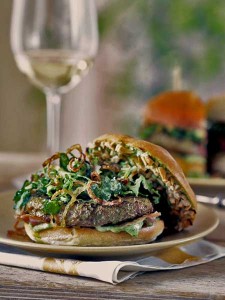 An Indian Lamb Burger from Mark Richardson of Snohomish, Wash. was selected by a panel of judges as the Best Alternative Burger and $15,000 prize winner. Featuring a tahini pistachio mayonnaise, the Lamb Burger's suggested wine pairing is Merlot.
Two People's Choice Award Burgers selected by cook-off attendees were also announced. The Grilled Green Tomato Burger by finalist Mark Pyne of Troy, Alabama transforms the common burger with true southern flavors—grilled green tomatoes, garlicky lemon mayonnaise, shoestring fries, and homemade BBQ sauce. The suggested wine pairing is Sauvignon Blanc. The second People's Choice winner was the Better than Breakfast in Bed Burger from Kim Jones of Bloomington, Illinois, which combines egg, cheese, buttermilk biscuits, sage-flavored pork sausage and a "spicy maple mayo" consisting of mayo with a touch of Sriracha and maple syrup. The suggested pairing is Sutter Home's Pinot Grigio.
Sutter Home's annual burger contest is one of the most fun food contests around. I've tried cooking some of the winners from previous years and the results are always amazing… although a little more time-consuming than than your average burger prep. The winners are excellent but the other finalists recipes are always inspiring too.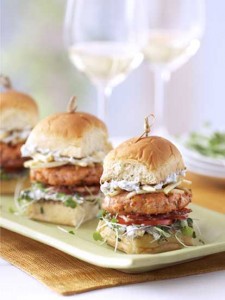 This year's finalists include intriguing choices like Razzle Dazzle Burgers with Raspberry-Chipotle Spread, Korean-Hawaiian Taco Truck Burgers and Smoky Sweet Salmon Sliders made with a tempting-sounding maple-mustard-gewürztraminer glaze.
Ingredients:1 cup pure maple syrup, preferably medium-amber grade, 1/4 cup Mady's Olde Tyme Beer Mustard or other whole-grain mustard, and 2 tablespoons Sutter Home Gewürtztraminer.
To make the glaze, heat the syrup in a fireproof saucepan on the low-heat side of the grill. Combine the mustard and wine in a measuring cup. Remove the syrup from the heat and stir in the mustard mixture. Set aside.
All the Build A Better Burger ® recipes are worth checking out at the Sutter Home website. See what inspires you. If you try any of them, let us know what you chose for wine pairings. Cheers to a delicious summer!
---

by Jackie Wilferd
Founder & President
Wines.com