Here are just a few of the interesting wines to explore this week from the WineShop...
93 Pt. 2009 Bordeaux
Half Cabernet Sauvignon and half Merlot, this "serious" wine from Bordeax Haut Medoc will pair well with lamb, beef, roast chicken, full-flavored cheese, duck, mushrooms, pork.
Professsional Review -- Rated 93 pts by Wine Spectator
"Rated 93 - Gorgeous black currant on the nose, with tar and lead pencil. Pauillac-like. Full-bodied, with well-integrated tannins and a long finish. Serious. - Wine Spectator." Shop Now
93 Pt 2010 Bordeaux
Professsional Review -- Rated 93 by Robert Parker
"A stunning sleeper of the vintage, this blend of 75% Merlot and 25% Cabernet Sauvignon was made by winemaking guru/consultant Stephane Derenoncourt. The wine's 14.5% alcohol tells you something about its amazing richness and intensity. Aromas of smoke, lead pencil shavings, sweet kirsch and black currants soar from the glass of this medium to full-bodied, opulent, fleshy wine. Some tannin lurks beneath the surface, but the overall impression is one of opulence and extravagance. Drink this beauty over the next decade or more." Shop Now
---
Chateau Les Grands Chenes.

For a GREAT 2009 bordeaux under $25, there are a few, I would do Chateau Les Grands Chenes which I paid $19 a bottle.

It is compelling Bordeaux, their first (and i think only bottling) and it should please the masses as well as the bordeaux buffs.
2006 Ygrec by Yquem

If the Gaja Chardonnay stunned me, this one had me straight up in my chair. This was an excellent wine.

The nose was also extremely explosive, floral, mellon, apricot, peach,...wow.

The a palate showed much the same but with a nice layer of minerality and structure. Very fresh and balanced. This is a great wine and i would love to try it again.
2006 McCrea Ciel du Cheval Vineyard Syrah.

A very big wine with blackberry and black cherry flavors showing hints of Chambord,licorice, black coffee, bacon, bitter chocolate and mineral. Fat but not heavy on the palate.

It did show some heat from the 14.8% Alc./Vol. Towards the end of the last glass all the "hint" flavors really started to strut.

A several hour decant at this age is in order. Very nice wine. $11 at .375.
2006 McCrea Ciel du Cheval Vineyard Syrah.

Had another .375 last night. Continues to be a beautiful, full smack in your face syrah.

The black coffee note has evolved to an espresso note and the nose has expanded....really nice wine.

Paired with a home made pizza with smoked chicken and basil for a quiet birthday celebration.
The truth about Sulfite-Free Wines
Are sulfites in wine naturally? Are sulfites dangerous? Should you be concerned about sulfites? If you are sensitive to sulfites or other substances in wine, what should you do? We give you the whole story here...
Read More
98 Pt. Collectible Wine - very limited supply
For those seeking the perfect wine, you don't get much closer than this. Definitely an item only for collectors and investors. Rated 98 by Robert Parker and 96 by Wine Spectator
Professsional Review by Robert Parker
98 points. "Simply put, the 2009 James Berry Vineyard is one of the greatest young wines I have ever tasted from California, or anywhere for that matter. Bright, floral aromatics lead to expressive red fruit in this impossibly elegant, dazzling wine. A melange of rose petals, mint and licorice follows as the James Berry shows off its breathtaking clarity and finesse. Fine-grained, chalky tannins frame the exceptional finish. Frankly, I am surprised this is the first wine of the tasting. Where does one go from here? The 2009 James Berry is a bit of departure from previous vintages. This is the highest percentage of Grenache ever used in the blend, and a large portion of the Grenache was aged in concrete, an approach Smith has borrowed from producers in the Rhone. Originally Smith had intended to age less of the Grenache components in concrete, but the low yields of the vintage forced him to age about two-thirds of the Grenache in concrete. Call it a happy coincidence, but it certainly looks like things turned out well. Readers should do whatever they can to taste this fabulous wine. In 2009 the James Berry Vineyard is 57% Grenache, 31% Mourvedre and 12% Syrah. Anticipated maturity: 2014-2021."
Professsional Review by Wine Spectator
96 points. "Strikingly complex, rich and fruity, this beautifully proportioned red delivers an initial burst of red berry fruit that echoes red and black licorice. This quickly gains traction and depth, with firm, layered tannins that give the spicy berry flavors a perfect foundation. Grenache, Mourvèdre, and Syrah. Drink now through 2024. 820 cases made. #21 Top 100, 2012 Shop Now
Cheers!
Wines.com
---
Wine Tasting
One of the richest sources of tasting notes and wine information on the web. Ask a question, find wine bargains, search or join in discussions of individual wines. Browse over 125,000 posts from fellow wine lovers. This is a friendly place for wine novices and experts alike.
---
A collection of helpful articles and videos covering basic and advanced wine topics. Popular Red Wines, Popular White Wines, Wweet Wines, wine names and pronunciation, and many other useful topics for consumers and collectors.

---
Check out answers to Frequently Asked Questions about sweet wine, wine storage, the right temperature for serving wine, and more.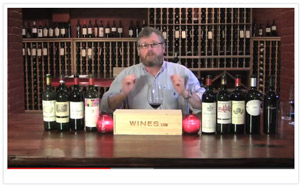 Rob Moshein, Austin Wine Guy, takes us on a speedy tour of Bordeaux, explaining the basic regional differences in wines made on the Right or Left Banks. He profiles Right Bank wines of Pomerol and Saint-Emilion, and Left Bank wines of Haut Medoc, Saint-Estephe, Pauillac and Margaux.
Ever wonder about a wine term? This searchable database of wine knowledge is much more than a glossary. It contains complete articles on topics like 'tast scoring systems' or 'Willamette Valley'. From Abboccato to Zymotechnology, you should be able to find it here. And we're adding more all the time.